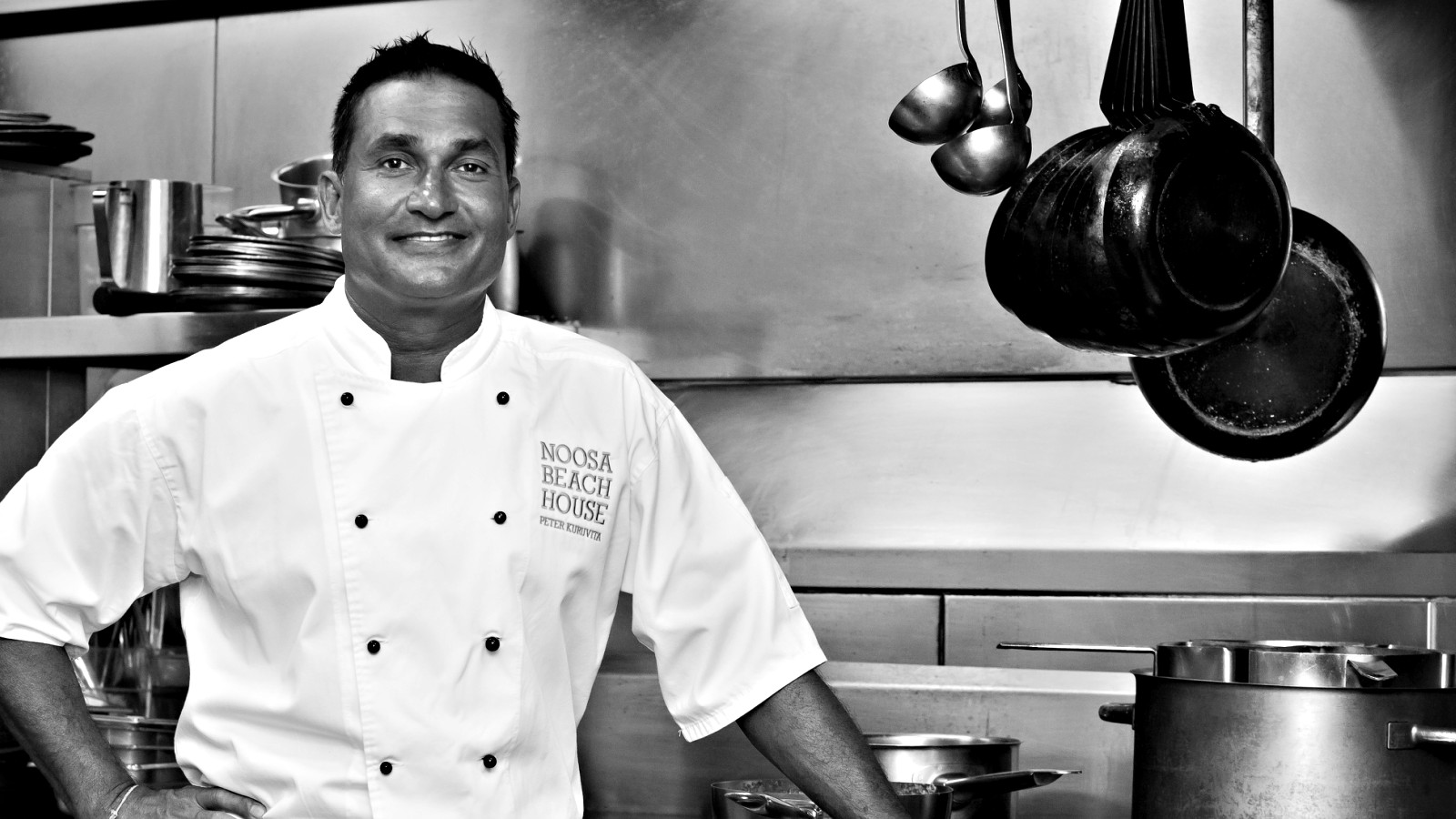 Peter Kuruvita
Peter Kuruvita
Peter Kuruvita is a busy man. He is a chef, restaurateur, TV presenter, author, consultant, surfer, fisherman and most importantly, a family man. He has an irrefutable passion for food, which was nurtured as a child growing up in Sri Lanka and spending time in the kitchen with his grandmother. Fresh produce, creative modern dishes, sumptuous seafood and stunning locations are just a few of the things he is so well known for and so it is no wonder that Noosa is where he is set to make his next mark.
Peter established himself as one of Australia's leading chefs in the early 2000's and for 8 years was the Executive Chef at Sydney's award winning Flying Fish Restaurant & Bar. In 2008, in partnership with the Starwood Hotels & Resorts he opened the Flying Fish Fiji, which is referred to now as the best restaurant in Fiji.
In 2009, Peter published his first cook book, "Serendip – My Sri Lankan Kitchen" which takes food lovers on a journey through the kitchen experiences of his childhood. He then presented his first TV Series show on SBS "My Sri Lanka with Peter Kuruvita" which is a visual feast in itself of breathtaking scenery, and an incredible look at the culture and culinary diversity of Sri Lanka. 2012 saw his next series "Island Feast with Peter Kuruvita" which looked at the local cuisine of the islands of Indonesia, Vanuatu, Philippines and the Cook Islands and inspired his next cook book "My Feast with Peter Kuruvita".
On Living in Noosa
Having a long association with Noosa as a favoured holiday destination for Peter and his family it was only natural that he'd one day call Noosa home.
"Noosa is a place I have always loved. It's my style of place, a casual holiday vibe, surrounded by natural beauty, fabulous fresh produce and creative locals".
You can often find Peter in the Noosa Beach House kitchen when he's not travelling around the world. We'll keep you up to date on his movements and when he's back in town he'd love to say hi.
Buffet Breakfast Daily

6:30am - 10:30am

Lunch Saturday & Sunday - Five Pot Curry Lunch

12:00pm - 2:30pm

Dinner Nightly - A La Carte

5:30pm - Late

All Day Dining Bar

10.00am - Late

A la Carte Breakfast

7.30am - 10.30am