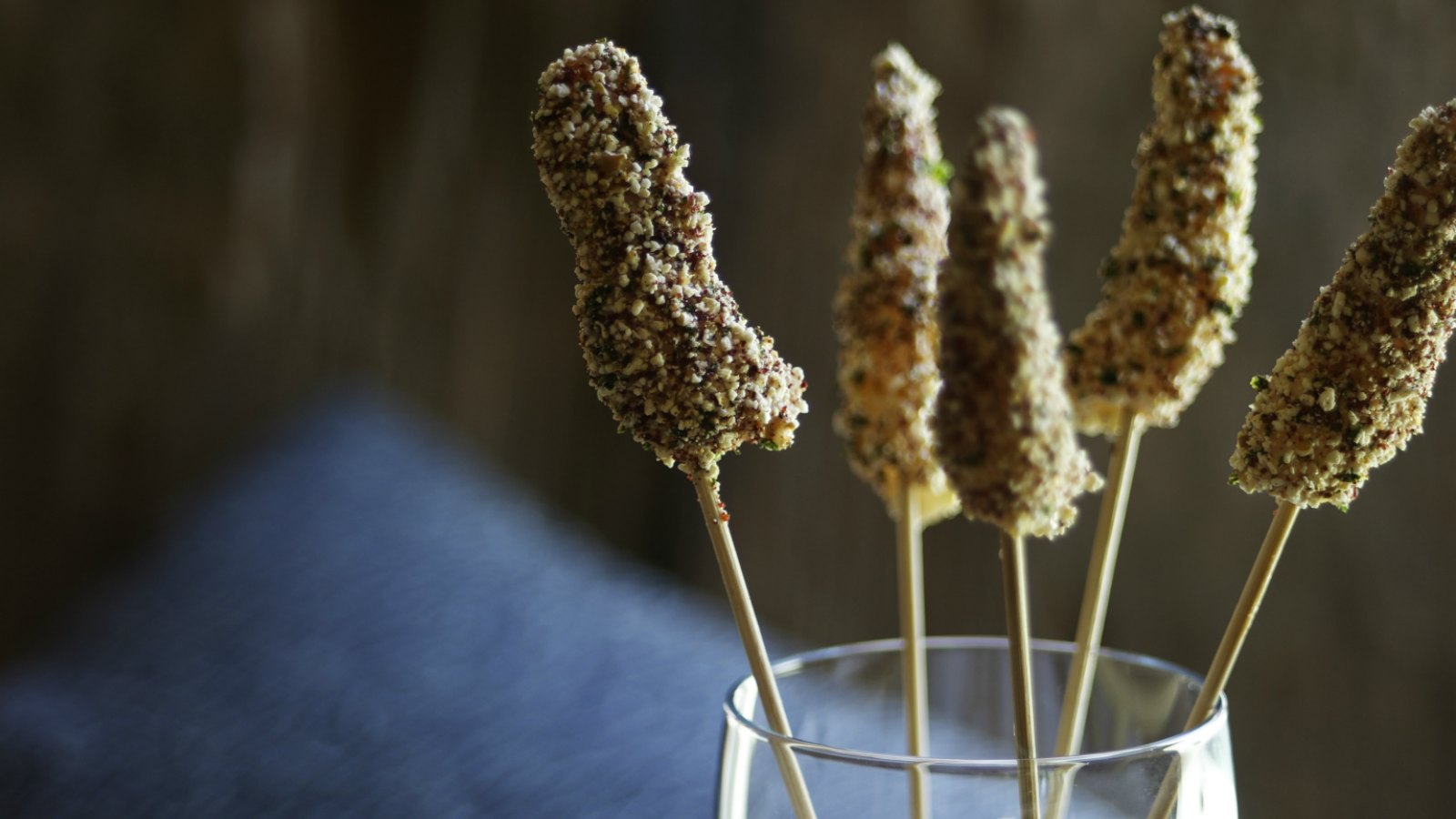 POPCORN PRAWN SKEWERS
BY PETER KURUVITA
This recipe calls for the freshest prawns you can find and are a playful way to start a dinner party, or served on their own, they certainly hold their own! A hint of chili and a light dusting of sumac, paired with a garlicy mayonnaise makes the perfect combination.

INGREDIENTS
10 prawns, peeled
10 bamboo skewers
2 tablespoons Japanese mayonnaise
1 garlic clove, crushed
½ teaspoon chilli flakes
¼ cup flat-leaf parsley, finely chopped
1 cup cooked and ground pop corn
1 tablespoon sumac
Sea Salt to season
Rock salt to serve
METHOD
To make the dipping sauce, place the mayonnaise, garlic, dried chilli and parsley in a bowl and stir to combine.
Place the ground pop-corn, sumac & sea salt (to taste) in a bowl and mix well. Place each prawn on its back and lightly score the belly two or three times so that lays flat.
Thread each prawn onto a skewer, starting at the head end and through the tail.
Preheat a barbecue hotplate to high. Lightly brush with oil and cook the prawns until just translucent.

Coat each prawn in the dipping sauce, and then roll in the pop-corn.

Serve in a glass full of rock salt.
Makes 10 canapés
Buffet Breakfast Daily

6:30am - 10:30am

Lunch Saturday & Sunday - Five Pot Curry Lunch

12:00pm - 2:30pm

Dinner Nightly - A La Carte

5:30pm - Late

All Day Dining Bar

10.00am - Late

A la Carte Breakfast

7.30am - 10.30am