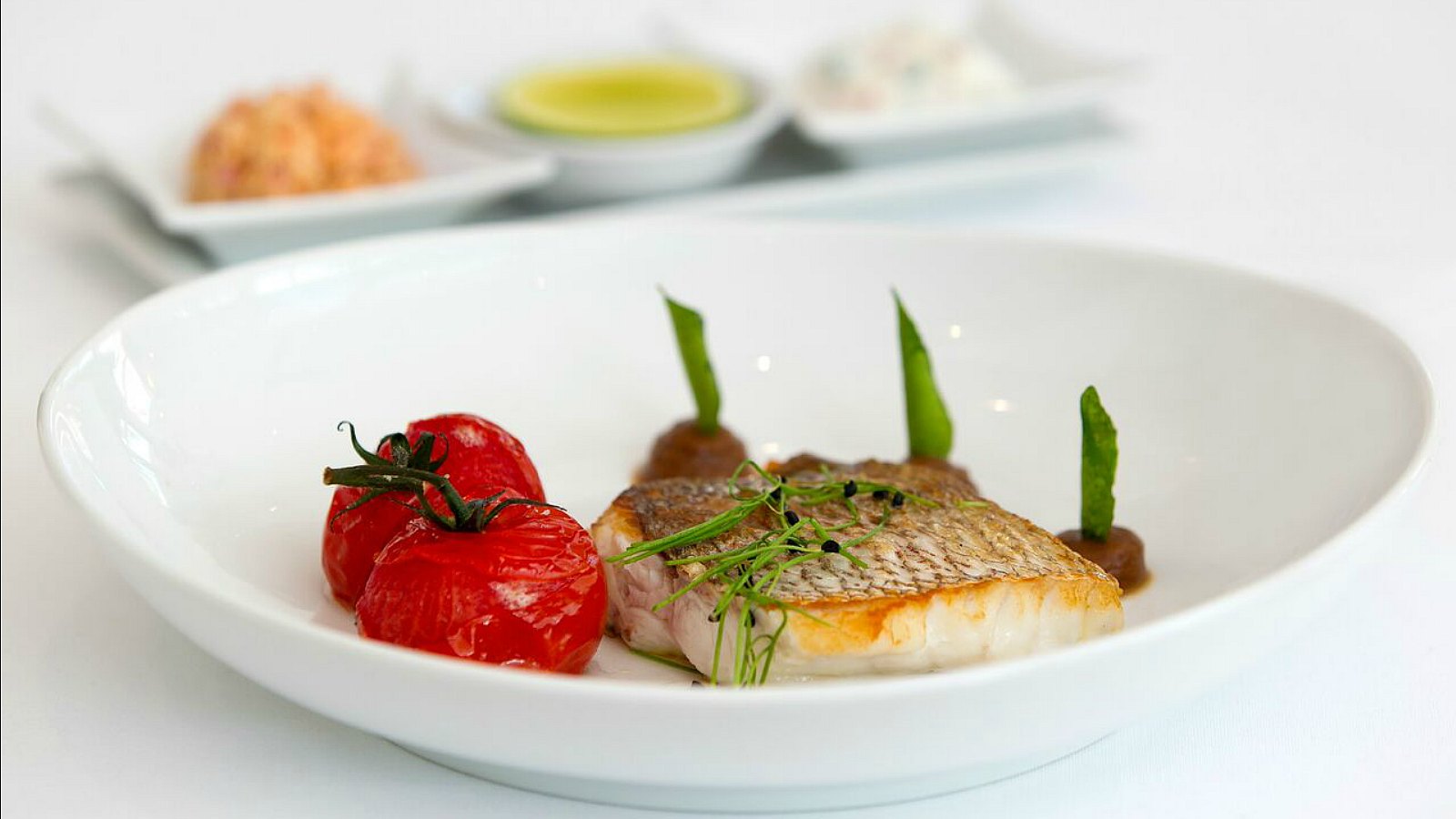 Sir Lanka Fish Curry
Sri Lankan Fish Curry
INGREDIENTS
Sri Lankan Curry Sauce:
20 curry leaves plus 20 extra leaves, fried in oil, to serve
10g ghee
4 eschallots, finely sliced
4 cloves garlic, finely sliced
1 cinnamon quill
2 teaspoons fennel seeds
6 cardamom seeds, cracked
1 teaspoon fenugreek soaked in water
1 green chilli, thinly sliced into rounds
1 teaspoon paprika
1 teaspoon turmeric
1/2 kitchen spoon Sri Lankan fish curry powder
1kg diced sweet potato (1.5cm dice)
250ml fish stock
150g coconut cream powder mixed with 1 litre warm waterRice:
3 cups basmati rice, washed
4 1/2 cups water
Pol Sambal (Coconut):
1 whole fresh coconut, grated
1 tablespoon Maldives' fish
3 teaspoons chilli powder
1 spanish onion, very finely chopped
1 teaspoon black pepper corns, crushed
1 lime, juiced
Raita:
500g plain yogurt
2 medium Lebanese cucumbers halved, seeded and very finely chopped
1 medium lemon, juiced
1 small red onion, very finely diced
1 teaspoon roasted whole cumin seeds, ground
½ teaspoon diced green chilli
½ teaspoon sea salt
Tomato Garnish:
4 vine-ripened tomatoes, scored and cored
Snapper:
10 snapper fillets, about 180g each skin on and scored
METHOD
Sri Lankan Curry Sauce
Heat ghee in a large pot over medium heat. Add curry leaves and cook, stirring until fragrant.
Add cinnamon, fennel seeds, cardamom and fenugreek and cook, stirring until aromatic.
Add the eschallots, garlic and season with salt and continue to cook, stirring continuously until eschallots are soft. Add green chilli, paprika, turmeric and curry powder – cook, stirring until spices start to stick to the pan. Add fish stock and sweet potato.
Bring to the boil and cook until sweet potato is tender. It should be cooked but still quite firm.
Remove sweet potato and whole spices with slotted spoon or spider and put into shallow tray to cool down quickly.
Add coconut cream to curry sauce and season to taste.
With the sweet potato – pick through and remove the cinnamon and cardamom. Be sure to remove all seeds and the quill.
Keep sauce and potato separate. Re-heat for service after cooking the fish.
Rice
Combine rice and water in a rice cooker and season with salt. Cook according to rice cooker instructions.
Pol Sambal (Coconut)
Combine grated coconut, maldive fish, chilli powder, chopped onion and crushed black pepper in a mortar. Pound with pestle until well mixed. Add lime juice a little at a time to taste, season with salt.
Raita
Place all ingredients into a bowl. Mix together checking taste.
Tomato Garnish
Blanch tomatoes in a large saucepan of boiling water for 10-12 seconds, transfer tomatoes to a bowl of iced water to cool, drain.
Cut tomatoes in quarters and scrape out seeds. Chop tomatoes into 2cm dice.
Snapper
Season fish skin with sea salt. Cook fish 2 at a time on a flat grill plate, skin-side down for 2-3 minutes or until skin is crisp. Transfer to a tray, keep warm.
Combine curry sauce and sweet potato in a large saucepan and re-heat.
To Serve
Bowl of coconut sambal
Bowl of yoghurt raita
10 lime halves wrapped in muslin
Pot of re-heated curry sauce
Tomato garnish
Coriander cress, picked
Cooked basmati rice
20 fried curry leaves
Extra grated coconut to serve

Spoon raita and coconut sambal among condiment serving dishes with lime halves. Spoon curry sauce into bowls and top with tomato and coriander cress. Spoon rice onto plate and top with fish. Spoon a little grated coconut over the fish and top with fried curry leaves, then place curry sauce bowl onto plate.